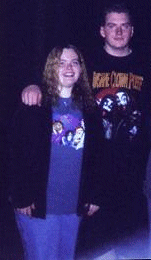 Hello! This is a page all about me, Tiffany! Sorry this may bore you but read on if you dare! So about me...
My favorite band is the Smashing Pumpkins apparently. I like other bands too! I like Korn, Metallica, Days of the New, Tool, Marilyn Manson, Alice In Chains, and I could go on and on!

I decided to make this page because I've never really seen many pages about D'Arcy, but there are tons about Billy and James. Plus D'Arcy is just as cool as Billy and James. There just isn't a lot known about her.

I have a Wonderful boyfriend, who I love very much! You can see a pic of us to the side. He's a cutie!:) Don't laugh at how I look though. :P I have low self confidence. The picture to the side is of me and Brian after the Korn concert! By the way, if anyone sees this page and went to the Korn concert in Nashville, could you tell me what happened? *L* I only payed attention to Brian.